This weekend was my mom's birthday fiesta. Although she can drive me nuts sometimes, it's probably because we are alike in so many ways. We're stubborn as hell and will stop at nothing to either get what we want or to make sure our opinion is heard. Plus, she is the reason why I'm here so I do have to give her a lot of cred for my very existence. ;) We did the whole fam celebration on Saturday and got together with my aunts, uncles, and cousins which is of course never a dull gathering.
Today my sister and I took her out to Richard Walkers Pancake House and enjoyed amazing coffee and food. My sister opted for the pumpkin pancakes to go with her main entree that were absolutely delicious.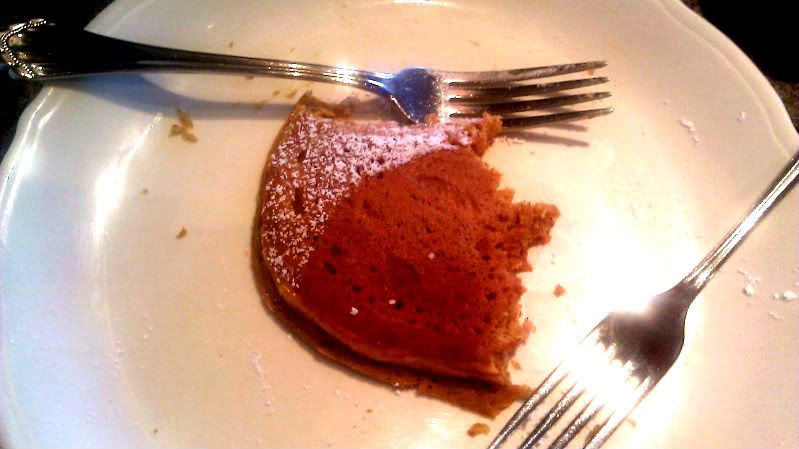 It tasted like pumpkin pie..only in a pancake. How can you go wrong? After a lot of chatter and five cups of coffee later, we headed to Color Me Mine which is one of my mom's favorite places to go. It's basically a place where you can paint whatever you fancy including cookware, containers, or random figurines. I might add that I have zero artistic ability when it comes to drawing things.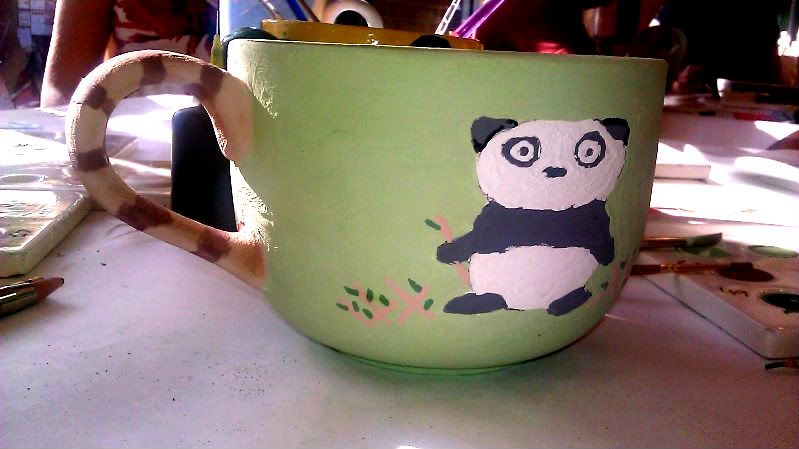 I usually paint random cartoon pandas...because I simply like pandas and I really have no drawing and/or painting capabilities. I went for a soup mug, my sister painted a tall coffee mug, and my mom painted a serving plate. Needless to say, they blew my cracked out pandas away. I seemed to miss the whole "I can draw anything I look at" gene. When we finished our pieces we walked on over to Starbucks (of course). Great success. I also have to mention and post a photo of this woman's crazy-ass shoes.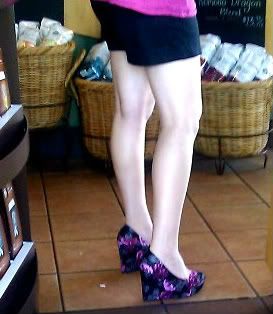 I must hand it to the woman...it takes a lot of balls to sport your grandmother's floral linens on your shoes...Yag. It almost beats the converse meets riding boot shoe that I witnessed last Saturday. I apologize for the not capturing the lace-up frontal view...I assure you that I am doing you a favor...these poor ladies need to hightail it to DSW asap. And for the shapely woman in the converse boot-type shoe...perhaps opting out of the tight jeans would have been in her favor as well. You be the judge...which is the worst offense?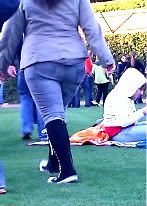 After we gulped down our ventis we headed home to give our trendy, Crate and Barrel plates to my mom. She loved them considering she ever-so-subtly emailed both my sister and I saying that she LOVED these plates...and made sure to copy and paste the link. Sure it kind of takes the surprise element out of gift giving...however it does mean that I no longer have to hunt for hours for that perfect gift that would get the mom seal of approval. Score. I do plan on making my liquor-infused cupcakes for her actual birthday (which is Monday). I could tell you how I make them, but then I'd have to kill you.
Week one of Warrior Boot Camp is also over. I survived! Hurray! My mobility has also drastically improved since the last ass-kicking. Feeling like you've been beaten to hell with a bat all over your body for days...isn't exactly my cup of tea. And it's only the beginning. I expect that I will have phobias against ropes and tires by the end of boot camp. On Thursday my boot camp partner and I were surprised to realize that we were going to be the only ones in the class that night. We were going to be doing ropes and bodyweight exercises...we quickly learned WHY we were the only ones in said class. You clearly have to be a masochist to put yourself through that more than once. I'm starting to think that I must be one for putting myself through it. Ah well. As the saying goes, "no pain no gain?"