I keep on telling myself that I will follow this fantastic budget I have set up to enable myself to just save up more in general...but do I do it? That all depends. If you stick me in one of the largest malls in the U.S. that has fabulous designer finds for a fraction of the price...my intentions of saving money go out the window. Of course I set limits for myself but can a girl really pass up a what was originally a $200 Marc Jacobs clutch at Nordstrom that ended up being around $100 due to those amazing triple points and other coupons I had burning a hole in my so yesterday wallet? No. I caved and I have no regret.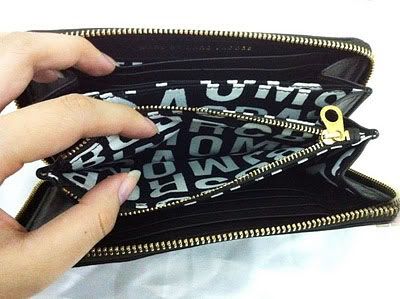 I continued my shopping by purchasing basic work essentials at Ann Taylor since their lovely 40 percent off sale was still going on as well. Although I am completely aware of spending too much, at least I am saving a few $$$ along the way...Coach was cruel enough to email me a preferred customer coupon as well for $100 off a $300 or more purchase. Needless to say, I stayed as far away from that store as possible to avoid the forbidden fruit...a.k.a. an amazing, new handbag or any other accessory that may catch my eye. I was able to swing by Sephora as well to buy a purse size version of Versace 'Bright Crystal' fragrance that is my new fav.
Aside from the shopping though, the trip is always worth the people watching as well. It amazes me how some people leave the house at all looking the way they do let alone going to a place where you WILL be seen by hundreds of people...i.e. people who simply do not have the figure to wear leggings as pants but do so anyway and stomachs bulging out of jeans (and their top that is two sizes too small). A part of me is hoping that these people are at the mall only to find clothes that are more suitable for them to wear...although the chances of that are slim. But then again there are those who know how to work their wardrobe and make me utter "you bitch" under my breath as they rock something out of the Michael Kors fall collection.
In addition to my own spending, I was fortunate enough to spend the afternoon with three gens of my own fam: my mom, aunt, grandmother, and my mom and aunt's cousin from out-of-state. The downtown area from where I reside has developed into an area that has the best stores from unique designer boutiques to crafty shops that are all worth a look. We started off by going to La Strata, a delicious breakfast/lunch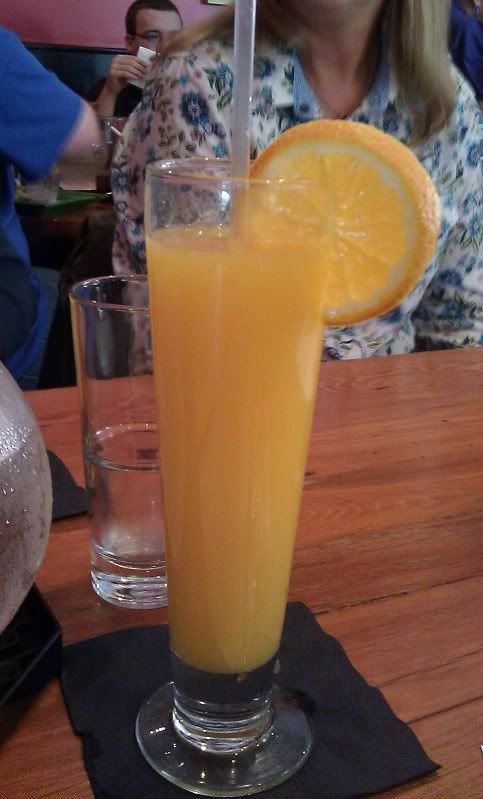 restaurant that serves the most amazing mimosas...so of course I had to get one. After I filled up on one of their best dishes there - a veggie, egg white omelet - we stopped by a few boutiques. Now if you are like me, there is nothing better than finding something amazing and knowing that you will not find some other person sauntering around in it too. I found the cutest trench coat at Lulu's boutique where you can find unique dresses, hats, tops etc. However, be prepared to pull out some plastic for this one. Once I found out that the last one in the store just so happened to be my size AND looked so cute...I knew I had to have it but the price did hurt a little bit. The vote was unanimous that it was "so me" and "so chic." As I was debating with myself in my head, my grandmother takes it from me, says "Happy Birthday and Merry Christmas" and completes the purchase. I of course was pretty much one happy lady as I walked out of the store with it on and gave my memom one HUGE hug.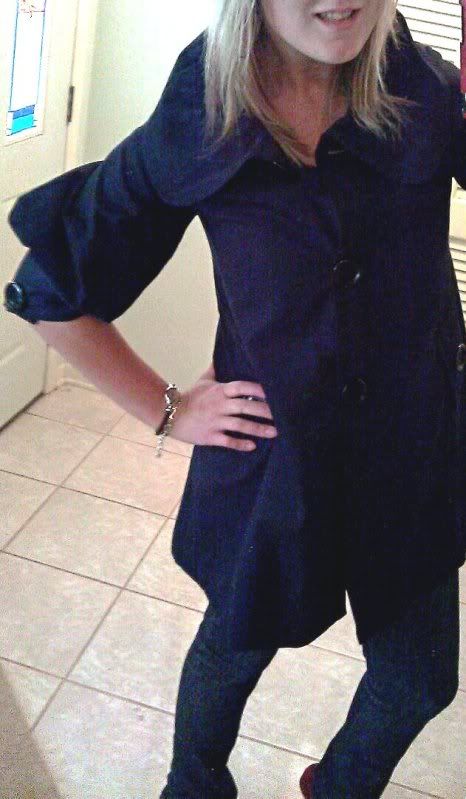 Lulu's never seems to let me down when it comes to that one item you just cannot leave the store without. That being said, it is quite dangerous since it is very hard differentiating between what one needs and wants when you walk in. You may want that $300 dress that makes you look absolutely fabulous, but could that money be better spent somewhere else? Now that is where the debate begins between reason and your inner fashionista that has no interest in leaving without that dress.
After celebrating my birthday and holiday months in advance, I ended the perfect afternoon by snagging one of my mom's pumpkin cupcakes she bought at Sweet Pea Cakes AND my signature Starbucks beverage. In just a few bites and several sips later my intense workout from that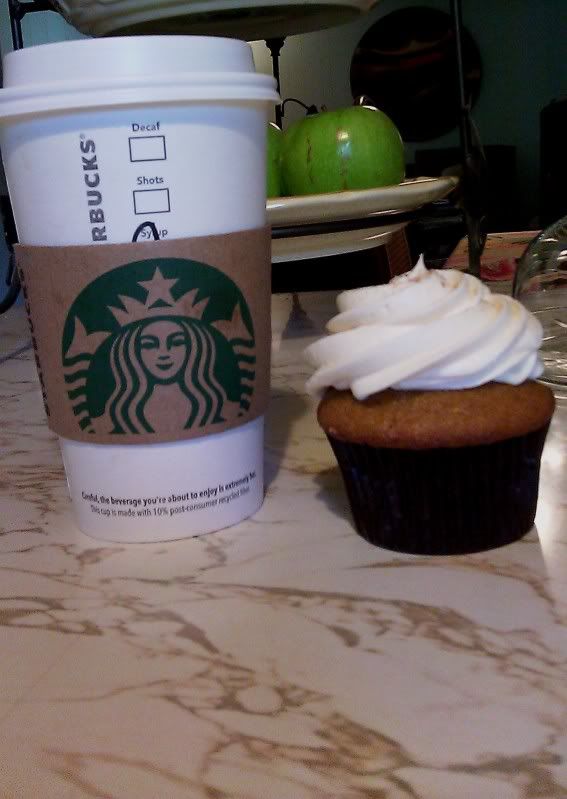 morning was history but again, no remorse. And I like to think of myself as a critical, yet half-full type of person so my actions will really just motivate me more to keep up with my routine at the gym...yes...positive thoughts...not negative ones like how that pumpkin cupcake deliciousness will go straight to my thighs.
To top off the weekend, I witnessed the Bears embarrass themselves unfortunately...although spending the game snuggled up to my main squeeze and falling asleep on him (literally on him) made up for the upsetting loss. He is definitely the best teddy bear around and he is all mine. :D I seriously do not know what it is either. The second my head hits his shoulder, I am OUT. I am not sure if that is a sign of some kind of sleep disorder or the solution to one. Either way, this weekend was a success filled with family, fashion, and football with the bf.