This post is going to be all about mushy, lovey dovey stuff with Thanksgiving right around the corner AND with my six-year anniversary that was this past Friday. I can't believe that it's been SIX years since I met my other half. Before him I can pretty much say I was an angsty, teenager that dressed in black and was angry at the world. Well..okay I was going through that horrible awkward phase in high school...and I'm certain that my mother was hoping and praying every single day that "yes she is just going through a phase, this won't last forever...oh please let her snap out of it." The after Josh Emily is definitely better than the before Josh Emily. He's made me a better person and has made me learn some things about myself that I never realized throughout the years. :)
Instead of just celebrating our anniversary day, we decided to go to a bed & breakfast in Lake Geneva. It turned out to be quite the experience that I'm sure we will never forget. We stayed at The French Country Inn. Apparently it has some interesting history that dates back to the 1920's and functioned as a crazy gangster hideout for Al Capone and Baby Face Nelson among other famed gangsters back in the day. The place was cute and our room had a great view of the lake, however at check-in they displayed a book named, "Murder At French Country Inn".....ummmm not the smartest marketing strategy in the world. I clenched my Starbucks in one hand and started shaking in my Michael Kors boots. This city girl was going to mingle with laid-back country folk? At least in the city if you were to get robbed and/or violently attacked someone would most likely hear you. For dinner, I made sure to change out of my heeled boots to flats just-in-case we came across any strange encounters...i.e. murderers. Josh honey I hope all of those first-person shooter video game skills also transfer over when it comes to real life situations.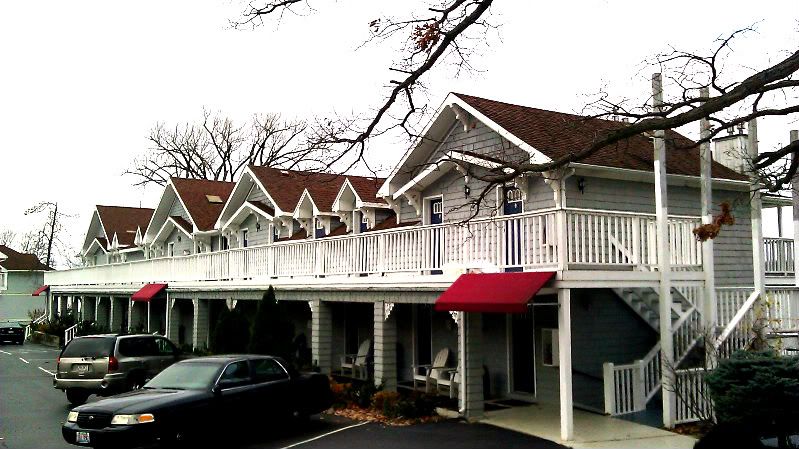 I don't do so well in sleeping in unfamiliar places in general but this place was one of those where the door to each room was apparently directly accessible from the outside....not a fan of that. As if I wasn't uneasy enough about my life expectancy through the night. Anyway, after we checked into the room and made sure all of the locks were in working order we made reservations at this AMAZING Italian restaurant, Cafe Calamari. Although when we left to go eat some delicious food, we ran into a sign saying that the bridge was out...so we went another way...and we ran into the same sign!! My first thought, "HOLY SHIZ WE'RE TRAPPED AND WE'RE GOING TO DIE A SLOW AND PAINFUL DEATH!" However thanks to technology we were able to find an alternate route. Recalculating...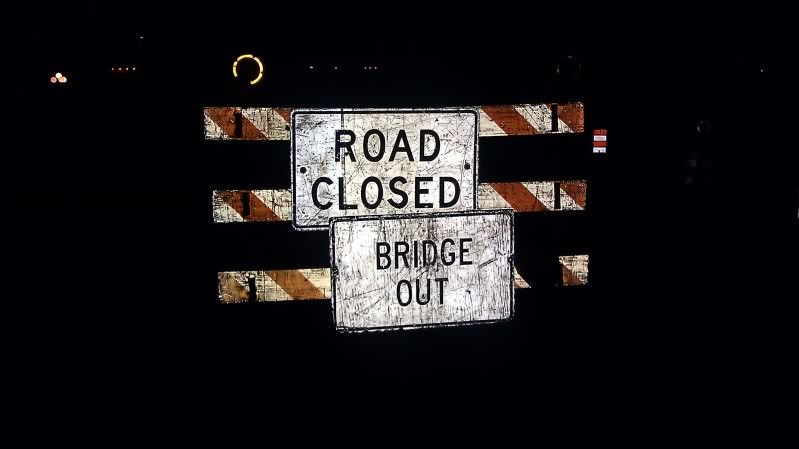 Not to mention it was raining and the whole situation thus far was like the beginning of a Stephen King novel. We eventually got there and ate way too much. I also realized that tiramisu is pretty much the most dissatisfying dessert ever. Before we left, Josh needed to go to the restroom so I was there to people watch and take in the whole ambiance of the place. It wasn't long until I just so happened to overhear...okay fine eavesdrop on a conversation between these two men...long story short he was no longer allowed in Lake County or else he would be arrested AND could not contact this one woman who was texting him or else he would also be arrested for doing so. Apparently he was just released? The night just keeps on getting more and more entertaining.
We got back to the place and I told Josh to put the "Do Not Disturb" sign on the outside so no strange housekeeper person comes barging in...how does he respond? "NO! Then someone will know that we're in here!" HA! Good to know that I am not the only one concerned that we may be slain in the middle of the night. I seriously could not fall asleep for more than 15 minutes at a time. Every time I heard someone walk by our room I went into a panic.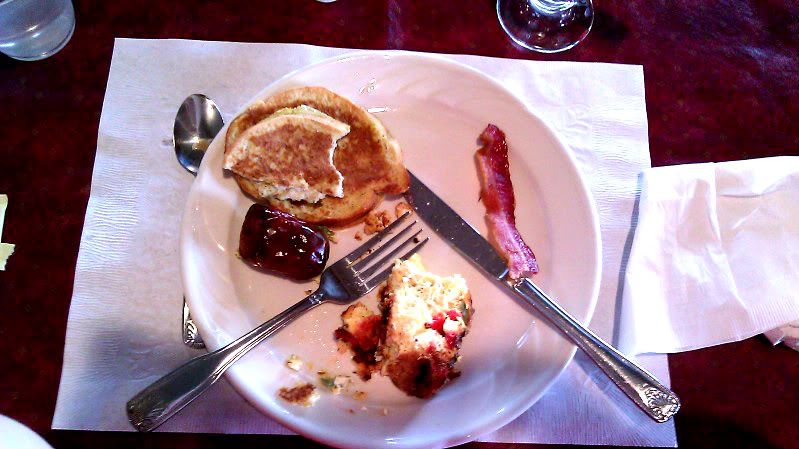 Morning eventually came though and we made it to breakfast (we had a one-hour window and it was flippin' way early in the morning). The breakfast was buffet style and Josh and I had to kind of play the guessing game as to what some of the food was. We joked that what we thought was sausage was possibly the remains of a previous guest. At least the coffee was good? After breakfast we relaxed a little bit in our room, packed up and headed out into town where, YES! There was a Starbucks. The shops there were so cute and Josh was a trooper going through them with me. After that we headed home safe and sound...unscathed. Although it wasn't the most luxurious getaway, the laughs and the uninterrupted time alone was the best. Would I do it again? Lets just say I'll do more research next time haha.