So I apologize for slacking on my weekly update. Although I must begin by saying that I hit my goal time on my 5K AND did not die and/or blackout! It ended up being a great morning for a run and enjoyed seeing some of the puppies up for adoption at Helping Paws on the sidelines. The bf and my parents were also there to cheer me on as well which was awesome to have their support.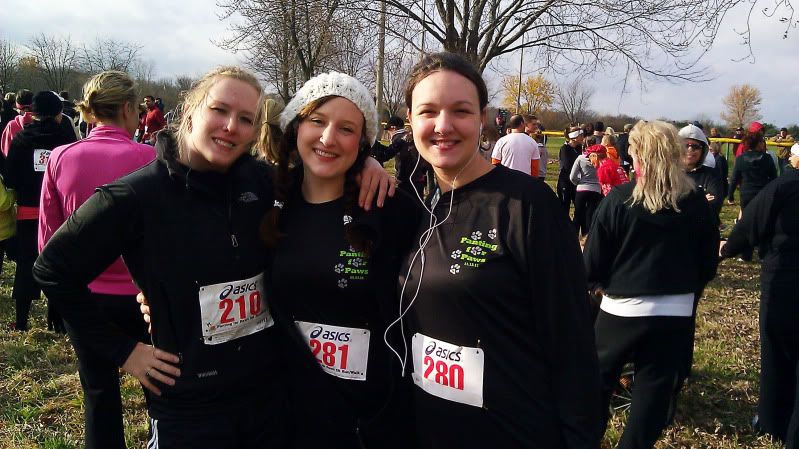 The bff and her sister decided to run it as well since we're all animal lovers. I definitely see running for more causes in my future. It's yet another way to not only benefit great causes, but it also keeps this girl right here from accumulating too many of those liquid calories on the midsection. Yes, I will have my wine and drink it too.
Aside from the successful run, I have been CRAZY busy with meeting deadlines for stories and projects lately. I must say I'd rather be busy than bored out of my skull, however when I don't even have enough time or energy for myself...that reaches a level of discomfort for me that must not last TOO long. I would have finished this one story days ago had it not been for two of my key sources playing the "I'll call you back game" on me and too many Directors of Communications NOT communicating. I swear, sometimes they act as if you are doing them a disservice by calling them and requesting to talk to someone regarding such and such issue. IT'S YOUR JOB...DO IT! I am grateful though that although it took a whole fricken week to schedule an interview with one of my key sources, I nailed it down and will file my story in the afternoon. Done and done.
I keep on meaning to post some stories on here and my latest story although quite interesting was rather disturbing...

The 10 Most Horrifying Health Care Statistics
What's so horrifying about health care? For those that have health insurance, the future of health care is sketchy, especially when it comes to recent changes in health care reform. For those that don't have insurance, getting it may be easier, but quality of care is still largely an unknown. And still, we are not certain how much the new reform is going to cost all of us in the public and private sector. Consumer Insurance Guide has compiled a list of alarming statistics about health care that is sure to make your hair stand on end.
1. According to the Census Bureau, there were 50 million Americans without health insurance in 2010. The Census revealed that all groups with the exception of children are experiencing a rise in uninsured rates. The percentage of people covered by employer-sponsored coverage also dropped to 55.8 percent with the growing unemployment rate in the United States only contributing to that percentage. Although President Obama's health care reform bill is supposed to chop away at the high number of uninsured citizens through 2014, many have more faith in the existence of UFOs.
2. Physicians estimate the cost of defensive medicine to be between 26 percent and 34 percent of total annual health care costs, according to Jackson Healthcare's September 2011 survey. At a current $2.5 trillion in annual spending, this means $650 to $850 billion is spent each year on medical orders intended to avoid lawsuits rather than treat patients. Defensive medicine is defined as the practice of ordering medical tests, procedures or consultations of doubtful clinical value in order to protect the prescribing physician from malpractice lawsuits. In addition, the physicians that participated in the survey estimated the following breakdown of orders were medically unnecessary and defensive in nature which included 35 percent of diagnostic tests, 29 percent of laboratory tests, 19 percent of hospitalizations, 14 percent of prescriptions, and 8 percent of surgeries.
3. According to the Social Security Administration, a 20-year-old worker has a three-in-10 chance of becoming disabled before reaching retirement age. Of course your chances of hacking a limb off are greater if you for instance, operate heavy machinery on a daily basis rather than having a desk job, but it may make you think twice about obtaining short-term or long-term disability insurance. Some employers may also offer coverage as part of their employee benefits package.
4. A 2010 analysis from the Employee Benefit Research Institute (EBRI) reports that a man with median drug expenditures would need $65,000 in savings and a woman would need $93,000 if they want an average (50 percent) chance of having enough money to cover health care expenses in retirement. For a higher (90 percent) chance of having enough money to cover costs, a man would need $124,000 and a woman would need $152,000 for health care expenses in retirement.
5. According to the April 2011 issue of Health Affairs, medical errors occur in as many as one-third of hospital admissions in the United States and may be 10 times greater than previously measured. The Lancet Medical journal's review of the study revealed that the most common are medication errors followed by surgical errors, procedure errors, and nosocomial infections (also known as hospital-acquired infections or HAI).
6. According to the Center for Disease Control and Prevention (CDC), one in 10 Americans take antidepressants, up 400 percent in the past two decades. In addition, the CDC reports that 11 percent of Americans 12 years and over take antidepressant medication. Drugs to combat depression are the third most common prescription medication by those aged 18 to 44, according to the U.S. National Health and Nutrition Examination Surveys. Spending on prescription drugs is expected to grow at an average growth of 6.3 percent per year through the year 2019, according to the Centers for Medicare & Medicaid Services.
7. According to the Office of the Inspector General of the Department of Health and Human Services, one in seven Medicare beneficiaries has complications from medical errors when hospitalized, and that these medical errors contribute to approximately 180,000 patient deaths per year. It is disconcerting to know that your death may be caused by the incompetence of the hospital staff rather than the illness that landed you in the hospital.
8. According to an analysis by Altarum Institute, U.S. health care spending increased to $2.64 trillion and accounted for 17.7 percent of GDP. Just to put that number into perspective, according to the National Priorities Project, the federal budget for fiscal year 2012 is $3.7 trillion. At the current growth rate, health care costs are expected to almost double to $4.5 trillion in 2019. According to the Centers for Medicare & Medicaid Services, Office of the Actuary, National Health Statistics Group, private health insurance accounted for 32 percent of the total national health expenditure in 2009. The national health expenditure is also expected to grow through the year 2019 with an average of 6.1 percent.
9. According to Jackson Healthcare's 2011 survey, other countries including New Zealand, Canada, the United Kingdom, and Sweden did not report any ordering of tests, treatments, or consultations to avoid lawsuits. This contrasts with studies of U.S. physicians in 2010, in which a 2010 Gallup survey and Jackson Healthcare found that 73 percent and 92 percent, admitted to making medical decisions just to avoid lawsuits.
10. The CDC reports that half of all chronic diseases are linked to preventable problems such as smoking, obesity, and physical inactivity. According to the CDC's 2011 National Health Interview Survey, a reported 29.5 percent of U.S. adults aged 20 and over are obese. The survey further reports that the prevalence of obesity has only been increasing throughout the years. Looks like some people can afford to skip out on all of that Halloween candy.
This article was originally published by Consumer Insurance Guide