Queue the spring/summer weather! As this week is coming to a close, I am grateful that the long, stressful work week is done and over with and the weekend proved to be nothing short of amazing. Saturday was a much needed shopping therapy session that was very successful. Nothing is better for the soul than new clothing and accessories to make oneself feel and look fabulous. ;) My favorite purchase was my new, vibrant blue trench coat.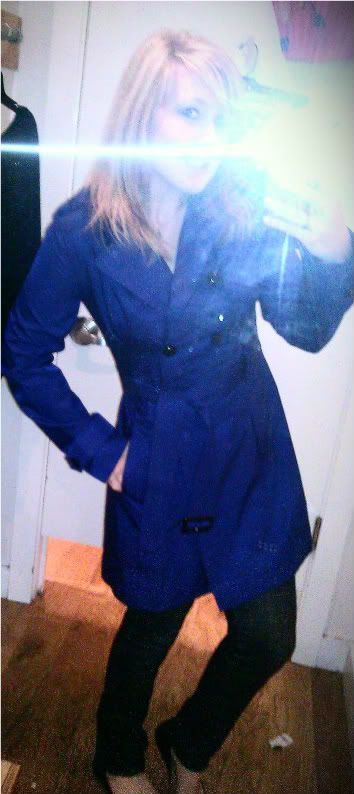 I'm always a fan of spicing up an outfit with something fun, yet professional so it was obvious I wasn't leaving the store without this great coat that is great for spring since it's very light. It'll also give me something to throw on for those April/May showers to come. I also purchased a deep keyhole, short-sleeved top that was that also matched my trench coat. Perfect for date night.
While I was there I also picked up a new set of earrings and a long, knotted shimmery necklace to add to a top or dress for a night out on the town.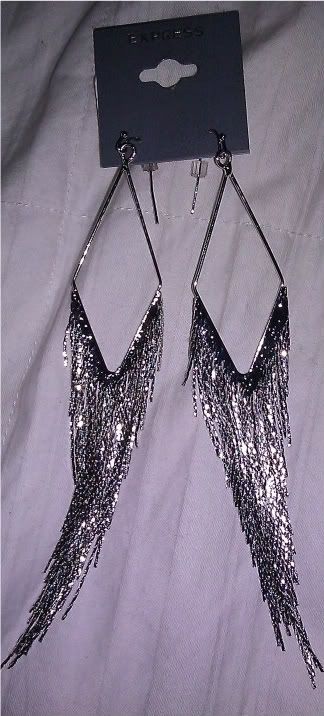 After I bought some shiny, fancy things I decided that I desperately needed some workout wear for the lovely, new weather! I hopped on over to Lady Footlocker and took advantage of their sale going on for four v-neck t-shirts for $20 in various colors. I also was in desperate need of running shorts and capris since my slimming bod can no longer fit into my old ones from last summer. Woohoo! I'm a fan of Under Armour's workout wear so I stocked up on these running shorts that are designed specifically for running in very hot weather.
Lucky for me, I was able to sport my new workout gear today for my morning run. Move over winter running gear! I ran four miles and walked one with my mom. Everyone in the neighborhood was out enjoying the weather. After my run I showered and decided that I would join Josh in some tennis. Tennis is not my sport of choice really...BUT Josh is really good at playing tennis and he was willing to put up with me and help me improve my game. Although I failed at winning a game against him, I was pleasantly surprised at myself! I only knocked the ball out of the court a few times ;). I'm also pretty sure I gave Josh a new found hope in regard to my tennis playing capabilities. :D I even perused some tennis rackets so I could possibly own one myself. Then I found it. A Chanel tennis racket. MUST. HAVE. This racket was made for ladies such as myself. :D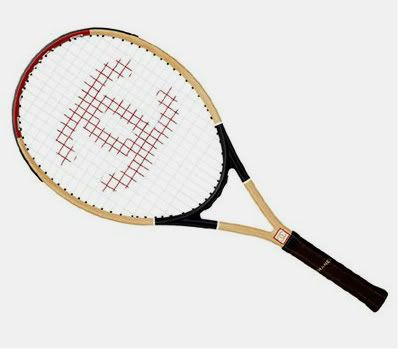 After practicing and playing quite a few games we went to Yumz. The name of the place is representative of the amazing frozen yogurt they serve. You grab a big cup for the frozen yogurt where you pick and choose from a variety of flavors like the traditional vanilla and chocolate to the more creative such as piña colada. After you've filled your bowl with your choice or choices of frozen yogurt, you move onto a number of toppings to finish it off. You can put anything from crushed Oreos to fresh fruit on top.
I personally chose to do half chocolate and half piña colada, sprinkled some crushed Oreo cookie on top and topped it off with some strawberry slices. YUMZ.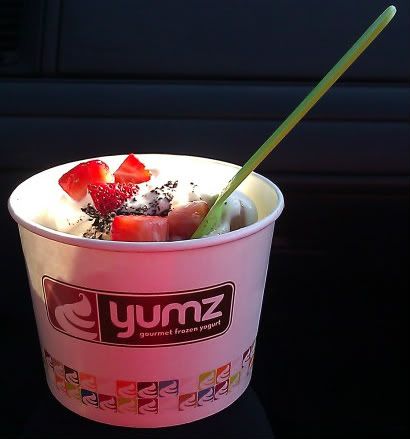 After Josh and I enjoyed our frozen yogurt concoctions, we relaxed until I headed on home. How am I feeling right now after today's activities and outdoor craziness?