Since my student loans continue to rape my bank account, I'm finding it really hard to save up for the wedding, a down payment on a house and my continuing addiction for fabulous apparel. These days I don't even have a choice but to get new clothes since I've been losing a bunch of flab that is most definitely not on my wedding invitation list. Parting is such sweet sorrow....NOT. It is quite annoying though now that I have to play the guessing game when it comes to online shopping. I'm definitely not a fan of buying before trying something on. Returning things is on my list of things that really annoy me. It fits somewhere between the Kardashian sisters and not being able to indulge in bowls of pasta without gaining an extra ass. SPEAKING OF WHICH! I found out that said Kardashian sisters will be in my neck of the woods promoting their "Kardashian Kollection" at the Sears in Woodfield on April 20th...that means I have the opportunity to flour bomb ALL THREE of the sisters. Christmas in April? I think so. I would be willing to sacrifice a potential mug shot for the opportunity. ANYWAY, enough of that...the following are my recent purchases:
First are my purchases from Modcloth. I'm a fan of wearing unique finds so this place is definitely one of my favorite places for new tops especially. However, they are only an online store so reading reviews as to how things fit is a must! I also enjoy their clever names they come up with for their apparel.
Their cutest things sell out fast, but I was in luck! This "Pam Breez-ly Tunic in Green" went back in stock and I snagged it. It works for both casual and office purposes.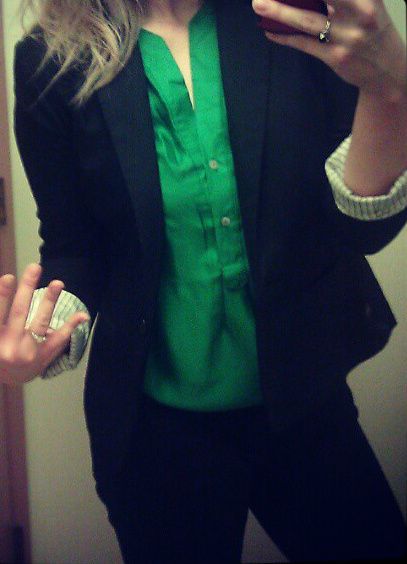 Next, I bought another hot item, the "Busy Week Tunic" in black. The photo is a fail when it comes to showing off the fun detailing but it is quite possible the most comfortable thing to wear. EVER. AND it's cute. It does have two buttons in the front but it would be wise to wear a tank underneath even though the layers in front overlap. It is my new go-to top when I suddenly feel like I have nothing to wear in my closet.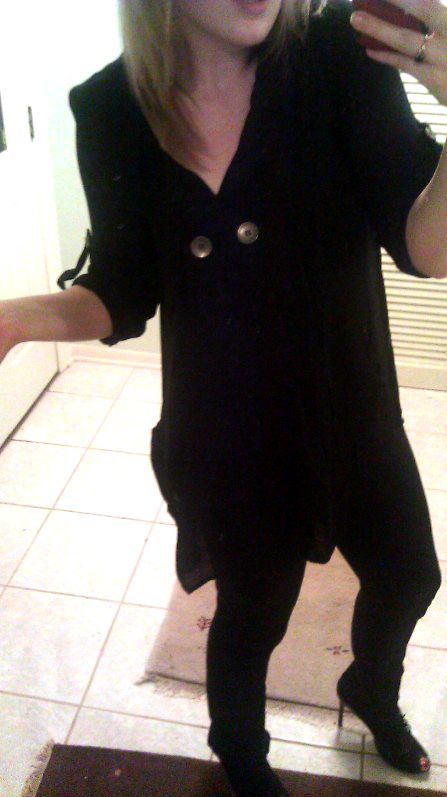 After those two, successful online purchases, I hopped on over to Urban Outfitters and found the best Beatles reference shirt I've ever seen in my life. The "Lords of Liverpool Yesterday Tee" Unfortunately, this was an epic fail when it came to estimating my size. It's supposed to have a "relaxed fit" but not THAT relaxed. So, I have to suffer through the return process and wait until a smaller size ships since it's only available online...tear. BUT the shirt is still all sorts of amazing and I can't wait until I can wear it. I also like how it's shorter in the front and longer in length in the back.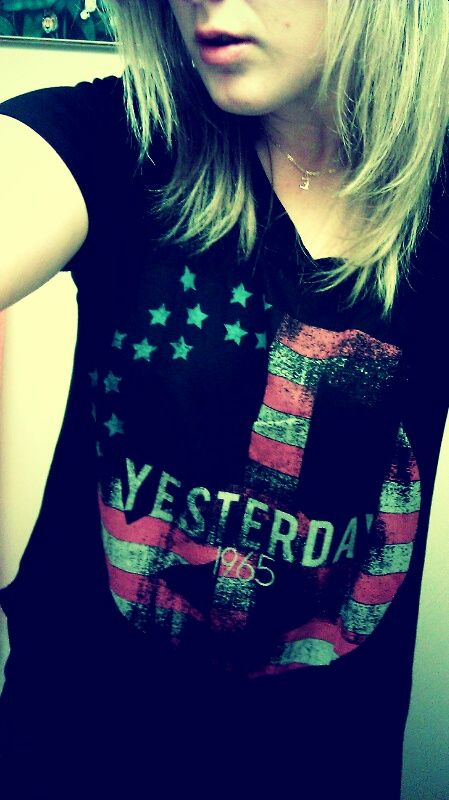 I also needed to accessorize, so I bought the "Diament Jewelry for Urban Renewal Vintage Letter Necklace" with the letter "E" from Urban Outfitters. You can choose whichever letter suits you...It's cute and simple.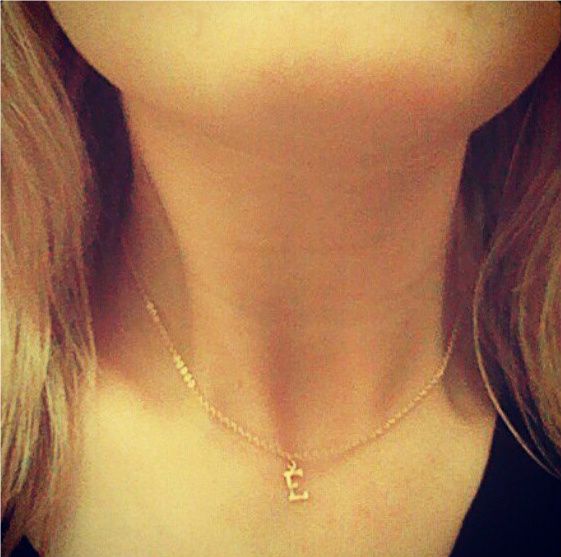 With buying more things though, comes the need to purge a ton of things from my closet. Goodbye "fat me" clothes!